Do Water Softeners Remove Arsenic?
Arsenicosis or also known as arsenic poisoning occurs when an individual is exposed to high levels of arsenic by inhalation or ingestion. The chemical element arsenic is a naturally occurring compound found in many minerals.
It is a semi-metal element with odorless and tasteless properties. This chemical element is usually found in combination with other minerals including sulfur, realgar, arsenopyrite, and metals.
What Types of Industrial Uses Does it Have?
Bullets and Car Batteries
The main use of the crystalline metalloid is in alloying with lead to create harder and durable metals. The more common contribution of arsenic is in the creation of bullets and car batteries. A small percentage of the alloying agent is enough to strengthen lead components in car batteries.
Weapons
The US military also benefits from the use of arsenic in their weapons and ammunition from lung irritant to weaponized lewisite. The US military used a mixture of sodium cacodylate and its acid form to create Agent Blue during the Vietnam War. The chemical was used to prevent the North Vietnamese soldiers from taking advantage of foliage cover and rice.
Circuits
The chemical compound gallium arsenide (GaAs) is also an essential semiconductor ingredient in integrated circuits. Unlike with silicon, gallium arsenide in semiconductors creates faster, integrated circuits with being expensive as one of its downsides.
Glasses
Before the intervention of the EPA, the chemical element was used in the manufacturing of optical glasses. Unfortunately, its use in glassmaking was put to an end by the Environmental Protection Agency due to environmental concerns. Combined with antimony, the chemical elements are used as significant fining agents to remove bubbles during the melting process of glasses.
Pesticide
Another important use of arsenic is as a wood preservative due to its toxicity to insects, bacteria, and fungi as an agricultural pesticide and poison. Since its discovery in the 1930s, the use of chromated copper arsenate or CCA has become the most extensive industrial use of the naturally occurring semi-metallic chemical.
With its effectiveness against insects, bacteria, and fungi, its popularity and demand in the United States led to its eventual ban in 2004. Although it is banned as a consumer product in the United States of America, the pesticide remains a favorite among many consumers in other countries. Arsenic as agricultural insecticides is widely regarded as an effective poison to control insects that infest fruit-bearing crops. Monosodium methyl arsenate (MSMA) and disodium methyl arsenate (DSMA) are both less toxic versions of arsenic agricultural insecticides and poisons.
Transistors
Arsenic is commonly used as a dopant which is inserted into a substance to change its optical or electrical properties. It is used as a doping agent for transistors in the United States. The chemical element is also used in paints, dyes, soaps, drugs, and in lasers.
How Does Arsenic Get into Your Drinking Water
The problem of arsenic groundwater contamination is extensive in some areas of the United States, particularly in the southwest part of the country. Arsenic in drinking water is also significant in other countries especially in Bangladesh and its neighboring countries which requires serious attention and quick action to prevent health problems associated with the ingestion of the contaminant.
As mentioned above, contaminated groundwater is among the greatest threat to public health in the United States as well as in other countries. The United States of America is among the countries with high levels of naturally occurring inorganic arsenic particles in groundwater.
Drinking water as a source of exposure will result in significant numbers of arsenic poisoning-related health issues. Since it is impossible to detect with your senses of smell and taste, it is difficult to tell if the semi-metallic element is present in your drinking water or not.
The primary sources of arsenic in the water supply are runoff from pesticide-happy orchards, erosion of natural deposits, and runoff from industrial factories that use the chemical element to produce their products.
Since it is used as an agricultural pesticide and poison, arsenic runoff is quite common in groundwater near farms and orchards. If you are living near a farm where they use the inorganic chemical to control pests, there's a high chance that it will go into your water source, especially if you're relying on a private well.
Wood preservation in the United States also contributes to the runoff of the chemical into drinking water. Since arsenic is widely used as a pesticide in the agricultural industry, the chemical gradually sips into groundwater most often than not.
Industrial production wastes of the chemical also contribute to the spread of the contaminant and its eventual entry into water supplies.
Glassmaking, smelting, and electronics production wastes are among the more common causes of arsenic in drinking water.
Lastly, the erosion of natural deposits of arsenic in the environment in both its organic and inorganic forms may also infiltrate groundwater. Its inorganic form is the more abundant form and poses more threats to human health. Inorganic arsenic can be found with other elements including sulfur and chlorine when they occur in the environment.
What are the Health Concerns Associated with Arsenic in Drinking Water?
The rise of arsenic contamination of drinking water in the United States and other parts of the world is high. According to experts, arsenic in drinking water can cause all sorts of health problems to the exposed individual.
Drinking arsenic contaminated water in excess of EPA's MCL or maximum contaminant level may lead to skin damages, circulatory system damages, and an increased risk of acquiring cancer. Chronic or long-term exposure to arsenic in drinking water may lead to higher rates of bladder and lung cancers and heart disease. Acute exposure to the chemical element may result in severe health condition and death.
According to studies, those who are exposed to arsenic-contaminated drinking water at 10 ppb to 100 ppb are prone to IQ degeneration and other adverse health effects.
What is the EPA's Standards for Arsenic in Drinking Water?
Since 2001, the Environmental Protection Agency or EPA has adopted a lower set of standards for arsenic in drinking water. According to research, well waters in the United States are found to contain levels above 10 ppb.
Arsenic poisoning continues to be among the most alarming drinking water-related problems in the United States. That is why the EPA's new drinking water arsenic standard of 10 parts per billion or ppb is used over the old standard of 50 ppb. Arsenic levels more than the EPA's new standard must be reduced to avoid human health problems.
What Treatment is Recommended for Arsenic Removal?
The good news is that the contaminant can be identified in your feed water with the use of inexpensive water test kits. Once detected, you can remove arsenic to below 0.010 mg/L or 10 ppb by ion exchange, absorption media, oxidation/filtration, coagulation/filtration, and reverse osmosis filters.
Do Water Softeners Remove Arsenic?
Unfortunately, common household water treatment methods such as water softeners are ineffective when it comes to removing arsenic from your drinking water.
While a water softener in other water improvement and purification areas, they do not remove the contaminant. Therefore, a water softener is not the solution to arsenic-contaminated drinking water.
The Advantages of a Whole House Water Filter and Its Differences Between Shower Filters
A whole house water filter system is ideal for arsenic removal from your feed water. Most water filter systems are built with a multi-stage filtration system to remove contaminants including arsenic from well water or municipal water.
Aside from the effective filter system, they are designed with a backwash filter as a maintenance-free benefit for the coming 20 years. The automatic filter cleaning system will free you from the burden of regular maintenance.You can enjoy the best of both worlds when you have clean and fresh drinking water without the need to do complex maintenance procedures.
Although shower filters are inexpensive, they do not do a good job in eliminating arsenic and other chemical elements in your feed water. If you are after clean and healthy bathing water, invest in a whole house water filter system.
While it's true that they are expensive, they offer better water quality and purification performances and results compared to the inexpensive filters. Therefore, a whole house water filter system easily outweighs any possible advantage of a shower filter over the more expensive water treatment system.
AquaOx's whole house water filter system uses a granular activated carbon filter and is designed to eliminate the pollutant from your drinking water. The best thing about our water treatment system is that the filter media is effective in removing arsenic and other harmful chemicals. Additionally, the backwash filter allows you to plug our product without worrying about the maintenance.
Since it is maintenance-free, you can have peace of mind knowing you've done your best to keep your family safe from arsenic poisoning while forgetting the product is even there.
From The Agency of Toxic Substances and Disease Registry
Affected Organ Systems: Dermal (Skin), Gastrointestinal (Digestive), Hepatic (Liver), Neurological (Nervous System), Respiratory (From the Nose to the Lungs)
Cancer Classification: EPA: Confirmed human carcinogen. IARC: Carcinogenic to humans . NTP: Known to be a human carcinogen.
Please contact NTP, IARC, or EPA's IRIS Hotline with questions on cancer and cancer classification.
Chemical Classification: Inorganic substances
Summary: Arsenic is a naturally occurring element widely distributed in the earth's crust. In the environment, arsenic is combined with oxygen, chlorine, and sulfur to form inorganic arsenic compounds. Arsenic in animals and plants combines with carbon and hydrogen to form organic arsenic compounds. Inorganic arsenic compounds are mainly used to preserve wood. Copper chromated arsenic (CCA) is used to make "pressure-treated" lumber. CCA is no longer used in the U.S. for residential uses; it is still used in industrial applications. Organic arsenic compounds are used as pesticides, primarily on cotton plants.
Need a water filter that will remove this? Checkout our whole house water filters.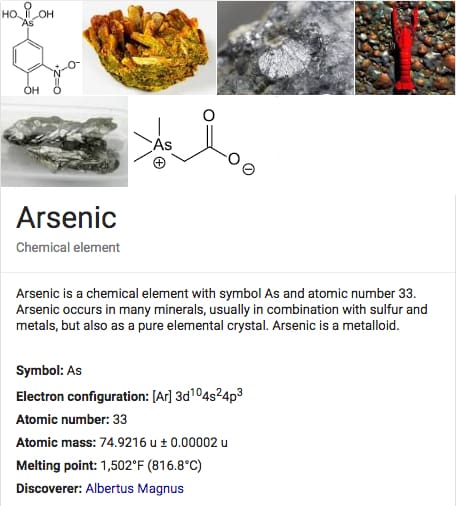 Other Contaminates We Remove.